Scriptures for Healing
The scriptures show us what God has done in the past, explain the mysteries of suffering and restoration to us, and build our faith to believe for what God desires to do in the present—even through our prayers, even in our situation.[1] Since our salvation (which includes healing) comes to us by grace (God's gift) through faith, it is essential that we feed our faith with God's Word.[2]
"For I am the Lord, your healer." Exodus 15:26 ESV
Foundational Truths
The scriptures provide three sets of powerful truths which we need in order to pray and believe for healing:
1. The truth of God's perfect will.
It is God's desire to heal, not afflict.[3] Confusion over this simple truth can become a terrible stumbling block. God is not the author of death or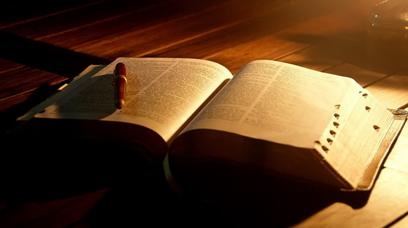 disease—these consequences of sin came in through our fall from grace. It has never been God's desire to see anyone afflicted with disease. Sadly, human sins have created many ways for the consequences of sin to come into our lives. Our own wrong choices, the sins of people in the world around us, the sins of our ancestors impact our lives in many negative ways. This grieves our Father as much as it does us!
Because of free will and real world conditions (see Truth or Consequences). God has to allow sin and its consequences to be in operation on the earth (disease for instance), but that certainly doesn't mean He desires it or causes it. In fact, His words and actions prove that He wants to heal.[4] If we are not sure of this, then we will pray for people with a divided mind, as if we were somehow going against what God really desires. Such conflicting doubts are deadly to prayer.[5]
2. The truth of God's own actions.
God has healed many times and in many ways. God healed people under the Old Covenant, mainly through the prophets. Jesus healed people during His life and ministry, on many occasions this included everyone who was brought to Him. The disciples healed people under Jesus' leadership and the apostles healed people by the Holy Spirit's empowerment after Jesus ascended. Why would the Lord do any of this if He was only concerned with saving souls for heaven? In fact He is deeply committed to healing our bodies as His actions have proven.
3. The truth of God's decision to act through us.
Now it is our turn. Jesus is in us just as He was in the apostles. His work continues through us. This means that just as Jesus desires to save the lost through us, He also desires for His healing ministry to take place through us. Clearly, we cannot heal anyone apart from His authority and power, but He has given these to us and desires us to use learn how to use them (see Commanding Prayer). The simple truth is that we cannot do anything apart from Him, but He doesn't expect us to depart from Him.[6] By living in and through Him, He fully expects that we will be able to do "greater works" than He did and that the Holy Spirit at work in us will work through us.[7]
Jesus is our Teacher; He is also our Example.He shows as well as tells us how to live the new life of faith and how to accomplish our assignments. Since all of us are called to pray for healing according to clear directives in the New Covenant, we would be wise to pay close attention to how Jesus accomplished healings and deliverances. These living examples will be instructive for seeing how He would likely want to work through us now.
More to Explore of Scriptures for Healing
Old Testament In the Old Testament period God "set the stage" for what He would be doing later on through Christ. He clearly announced the connection between sin and disease, He presented Himself as both Savior from sin and Healer of disease, and He demonstrated His ability and willingness to save and heal by many miracles, signs and wonders.8]
Jesus in Action Jesus is a living demonstration of the invisible Father's will and desire. Jesus said that He always did what the Father wanted Him to do. That certainly includes the healings Jesus did. But how did He do them? As our Example we can try to imitate Him from the outside—"copying" the way He lived—or from the inside—seeking to adopt His same internal stance. Both ways are valid, however, the latter way yields extraordinary results!
The Disciples The disciples are the close circle of Jesus' hand-picked followers that He was training to believe what He believed and to do the works that He did which included the "children's bread"—healing and deliverance.[9] The Holy Spirit recorded occasions which demonstrate both their success and their failure while they were still "babes in Christ." This is certainly intended to be an encouragement to us: We too are disciples, hand-picked by Jesus and we too experience failure along with success. May we learn from both.
The Apostles After the death, resurrection and ascension of Jesus His close followers are no longer called disciples. They have become the apostles, the "sent ones" who are now fully commissioned to carry on in the Lord's absence the work He trained them to do: preach the good news and heal the sick. To their number others have been added, most notably Paul of Tarsus. The Church is launched with signs and wonders; so is its healing ministry.
The Church We are the Church—the ecclesia, the "called out ones." We have been equipped with powerful gifts and entrusted with awesome responsibilities. Right from the beginning the Church won the pagan Roman world to Christ by bold preaching combined with unprecedented displays of love and supernatural power: Those early believers loved the outcasts, healed the sick and drove out demons. That was meant to be just the beginning of wonders…[10]
Free Downloads
Interested in Going Deeper?
Consider taking our free eCourse for Healing. We have designed a complete series for personal transformation, "Matters of the Heart", to help Christians gain emotional freedom and inner healing. In all there are 24 Main Healing Lessons and 24 Head to Heart Guides to help you bring your heart to God and receive His Great Heart for you in return!
Visit our sister site, Healingstreamsusa, where all the lessons are free as PDF, MP3 and MP4 downloads downloads or you can go through them in a well-ordered progression by taking the eCourse.

---
Scriptures and Foot Notes
[1] Scriptures for healing are faith builders: So faith comes by hearing, and hearing by the word of God. Romans 10:17 WEB
[2] For by grace you have been saved through faith, and that not of yourselves; it is the gift of God. Ephesians 2:8 WEB
[3] Bless the Lord, O my soul, and forget not all his benefits, who forgives all your iniquity, who heals all your diseases, who redeems your life from the pit, who crowns you with steadfast love and mercy, who satisfies you with good so that your youth is renewed like the eagle's. Psalms 103:2-5 ESV
[4] There the Lord made for them a statute and a rule, and there he tested them, saying, "If you will diligently listen to the voice of the Lord your God, and do that which is right in his eyes, and give ear to his commandments and keep all his statutes, I will put none of the diseases on you that I put on the Egyptians, for I am the Lord, your healer." Exodus 15:25-26 ESV
[5] If any of you lacks wisdom, let him ask God, who gives generously to all without reproach, and it will be given him. But let him ask in faith, with no doubting, for the one who doubts is like a wave of the sea that is driven and tossed by the wind. For that person must not suppose that he will receive anything from the Lord; he is a double-minded man, unstable in all his ways. James 1:5-8 ESV
[6] "Abide in me, and I in you. As the branch cannot bear fruit by itself, unless it abides in the vine, neither can you, unless you abide in me. I am the vine; you are the branches. Whoever abides in me and I in him, he it is that bears much fruit, for apart from me you can do nothing." John 15:4-5 ESV
[7] "Truly, truly, I say to you, whoever believes in me will also do the works that I do; and greater works than these will he do, because I am going to the Father. Whatever you ask in my name, this I will do, that the Father may be glorified in the Son. If you ask me anything in my name, I will do it." John 14:12-14 ESV; Now to him who is able to do far more abundantly than all that we ask or think, according to the power at work within us, to him be glory in the church and in Christ Jesus throughout all generations, forever and ever. Amen. Ephesians 3:20-21 ESV
[8] Read Deuteronomy to see how the curse of disease is not something that God wants for any of us—He desires that we listen to His voice and walk in His ways so that He can shower us with blessings. However, He "sends" disease as a consequence of our sins. He is no respecter of persons: even the covenant people receive the curse and its consequences if they choose not to seek God, listen to His voice or obey Him.
[9] In His conversation with a non-Jewish woman who was seeking healing for her daughter, Jesus called the ministry of demonic deliverance "the children's bread." Children's bread indicates that healing and deliverance are not only for the "children" of the covenant, but also that such supernatural working is meant to be as commonplace and life-giving as our daily bread: And behold, a Canaanite woman from that region came out and was crying, "Have mercy on me, O Lord, Son of David; my daughter is severely oppressed by a demon." But he did not answer her a word. And his disciples came and begged him, saying, "Send her away, for she is crying out after us." He answered, "I was sent only to the lost sheep of the house of Israel." But she came and knelt before him, saying, "Lord, help me." And he answered, "It is not right to take the children's bread and throw it to the dogs." Matthew 15:22-25 ESV
[10] "The latter glory of this house shall be greater than the former, says the Lord of hosts. And in this place I will give peace, declares the Lord of hosts." Haggai 2:9 ESV