Prayers for Healing
There are at least five main ways of praying for healing: They are outlined here. Follow the links to see models for prayer and Biblical examples on this site. We also have much more in the way of prayers for emotional healing at our sister site: healingstreamsusa.orgPlease keep in mind that there is no such thing as a "formula" for prayer, guaranteed to work every time. Prayer is above all else your own faith-based conversation with God. Therefore, what matters most is your honesty and openness to God, as well as your trust in Him—just as it would with any earthly doctor you might visit.
And without faith it is impossible to please him, for whoever would draw near to God must believe that he exists and that he rewards those who seek him. Hebrews 11:6 ESV
1) Petitioning Prayer
Asking God for healing is always right.It is very natural, heart-felt and direct. It hardly needs to be taught, though building up one's faith is a very helpful element for adding confidence to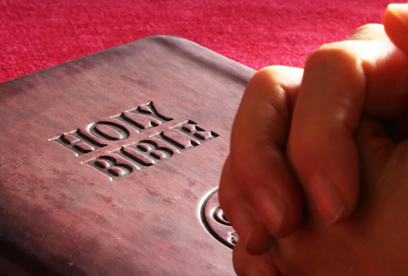 any request. Sometimes God brings swift and profound answers! However, since the healing may not come by means of petition only, it is wise to learn the other ways of praying for healing. There is an art, too, to learning how to release prayers of petition with expectant, believing faith.[1]
Model prayers for healing and scriptural examples
2) Prevailing Prayer
Prevailing prayer is more than persevering with petitions for healing, though it certainly includes that. The idea here is of the widow Jesus recommended as an example of "importunity" in prayer.[2] She couldn't get the judge to pay any attention to her requests, but she refused to give up. She prevailed upon him—not by seeking compassion (he had none) but by making a general nuisance of herself! A thing sometimes missed in reading scripture, but which often appears in regular life, is the phenomenon of the Lord's seeming reluctance to act. You have to press past the apparent indifference or resistance that seems to be in God. Don't take "No" for an answer: God's stated desire is to heal us in every facet of our being. However, in some sense He actually wants us to "call Him out"!
Model prayers for healing and scriptural examples
3) Rebuking Prayer
Many physical sicknesses and emotional disorders were healed in the New Testament by either Jesus or his followers rebuking the spirits that were causing the illness.[3] It is a fact of scripture that we have been given awesome power to command the evil one and his kingdom, to curb their power and to overturn their works. This is not meant to make us arrogant or proud—not even against the evil spirits, but it is intended for our relief and protection from oppression by the enemy.[4] Commands can be issued of either a defensive or offensive nature.
Model prayers for healing and scriptural examples
4) Commanding Prayer
Not only are we invited to command the invisible spirits, we are also invited to command the natural realm. Disease can be commanded to leave. Creative miracles can be commanded to come. Even the kingdom of God can be commanded to come. We all know that Jesus taught us to pray, "Thy Kingdom, come!" [5] Less well understood is that in the Aramaic the language is quite emphatic: "Kingdom come!" Of course we leave it up to the Lord to determine in what way and at what time His Kingdom should best arrive. In all of this we certainly are not presuming to issue commands to the Lord. Nevertheless, the powers He gives us include doing what He did. Jesus commanded healing and he commanded even storms to cease. He is in us still seeking by His Spirit to do more now than He did then, more even than "we could ask or imagine." [6]
Model prayers for healing and scriptural examples
5) Submitting Prayer
Our final place to stand is in the position of entire surrender to His sovereign will. When you have done all, stand.[7] God is not asking us to accept disease as His desire for us or as His best for us. Never! He is the giver of every good gift and the sworn Enemy of all that is dark, fallen and evil.[8] This is no faint-hearted, resignation-wearied fall back position, as if yielding to God's mercy was the last and worst alternative available to us. Sometimes it is the best way from the beginning, but only if you have the faith-confidence to believe that the Lord's desire is to liberate you.[9] Then, the release of your spirit into His may be the very thing He needs to effect your release from the illness.
Model prayers for healing and scriptural examples
Prayer
Father, forgive us whenever we have looked first to other means of healing, rather than coming to You. Forgive us for not fully believing in either Your desire or Your power to bring healing. Cleans all of that out of our hearts and minds and renew in us a right heart of faith in You and the goodness of Your will.
Jesus, as the disciples asked so many years ago, we too ask that You teach us to pray. Teach us all of the many ways to pray for the healing of our loved ones and the people You bring to us for ministry.
Holy Spirit, help us overcome our own unbelief. Strengthen us to pray with active faith in the great desire of our God to bring healing. Alert us to the times when we need to stand against the enemy. Enable us to cast every care fully upon our Lord with a confident expectancy that He will answer us.
True Life Illustration
Interested in Going Deeper?
Consider taking our free eCourse for Healing. We have designed a complete series for personal transformation, "Matters of the Heart", to help Christians gain emotional freedom and inner healing. In all there are 24 Main Healing Lessons and 24 Head to Heart Guides to help you bring your heart to God and receive His Great Heart for you in return!
Visit our sister site, Healingstreamsusa, where all the lessons are free as PDF, MP3 and MP4 downloads or you can go through them in a well-ordered progression by taking the eCourse.

---
Scriptures and Foot Notes
[1] The Lord is at hand; do not be anxious about anything, but in everything by prayer and supplication with thanksgiving let your requests be made known to God. Philippians 4:5-6 ESV
[2] And he told them a parable to the effect that they ought always to pray and not lose heart. He said, "In a certain city there was a judge who neither feared God nor respected man. And there was a widow in that city who kept coming to him and saying, 'Give me justice against my adversary.' For a while he refused, but afterward he said to himself, 'Though I neither fear God nor respect man, yet because this widow keeps bothering me, I will give her justice, so that she will not beat me down by her continual coming.'" And the Lord said, "Hear what the unrighteous judge says. And will not God give justice to his elect, who cry to him day and night? Will he delay long over them? I tell you, he will give justice to them speedily. Nevertheless, when the Son of Man comes, will he find faith on earth?" Luke 18:1-8 ESV
[3] And in the synagogue there was a man who had the spirit of an unclean demon, and he cried out with a loud voice, "Ha! What have you to do with us, Jesus of Nazareth? Have you come to destroy us? I know who you are—the Holy One of God." But Jesus rebuked him, saying, "Be silent and come out of him!" And when the demon had thrown him down in their midst, he came out of him, having done him no harm. And they were all amazed and said to one another, "What is this word? For with authority and power he commands the unclean spirits, and they come out!" Luke 4:33-36 ESV
[4] The seventy-two returned with joy, saying, "Lord, even the demons are subject to us in your name!" And he said to them, "I saw Satan fall like lightning from heaven. Behold, I have given you authority to tread on serpents and scorpions, and over all the power of the enemy, and nothing shall hurt you. Nevertheless, do not rejoice in this, that the spirits are subject to you, but rejoice that your names are written in heaven." Luke 10:17-20 ESV
[5] Now Jesus was praying in a certain place, and when he finished, one of his disciples said to him, "Lord, teach us to pray, as John taught his disciples." And he said to them, "When you pray, say: "Father, hallowed be your name. Your kingdom come. Give us each day our daily bread, and forgive us our sins, for we ourselves forgive everyone who is indebted to us. And lead us not into temptation." Luke 11:1-4 ESV
[6] "Truly, truly, I say to you, whoever believes in me will also do the works that I do; and greater works than these will he do, because I am going to the Father. Whatever you ask in my name, this I will do, that the Father may be glorified in the Son. If you ask me anything in my name, I will do it." John 14:12-13 ESV
Now to Him Who, by (in consequence of) the [action of His] power that is at work within us, is able to [carry out His purpose and] do superabundantly, far over and above all that we [dare] ask or think [infinitely beyond our highest prayers, desires, thoughts, hopes, or dreams]. Ephesians 3:20 AMP
[7] Therefore take up the whole armor of God, that you may be able to withstand in the evil day, and having done all, to stand firm. Ephesians 6:13 ESV
[8] Do not be deceived, my beloved brothers. Every good gift and every perfect gift is from above, coming down from the Father of lights with whom there is no variation or shadow due to change. James 1:16-17 ESV
[9] And he withdrew from them about a stone's throw, and knelt down and prayed, saying, "Father, if you are willing, remove this cup from me. Nevertheless, not my will, but yours, be done." And there appeared to him an angel from heaven, strengthening him. Luke 22:41-43 ESV