New Life Essentials

This Is Your Home Base for Finding True Spiritual Life and Health
This section is definitely for you — whether you are a "new recruit" or a "seasoned veteran." If you want to know how to make your new life count (and enjoy it) now that you are saved, you've come to the right place. And if you are an older Christian who is struggling to find the joy, peace and fulfillment promised by the gospel, then this whole section will help refresh and restore you. True spiritual health is living with your heart yielded to Jesus in every situation. However, if your main concern is emotional or physical healing then please head over to the Healing Home Page.
Therefore if anyone is in Christ, he is a new creation. The old things have passed away. Behold, all things have become new. 2 Corinthians 5:17 WEB
What is the "New Life"? It is a radically new heavenly life in Christ that begins now and goes on forever. So much has been promised to us! But it doesn't all just drop on us out of the blue. We "come to life" by believing and then living the truths which our New Life is built upon. Here's what you need to know to stay peace-filled, joy-full and free: enjoy digging into these "new life essentials."
A New Life through Spiritual Birth
Through Spiritual Birth Have you just been born again? That's truly wonderful, but please don't go running off into the wild world out there without sticking around long enough to find out what just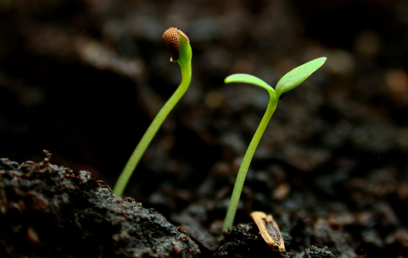 happened to you! You also need to know the essentials about how to live this new life, especially how to stay connected to your new Source.
What Just Happened to Me? You are going to have a hard time believing all of this! If you prayed to receive Jesus as your Savior, then God your Father has been showering you with some very astounding gifts.[1] You may already be aware of some of them, but most were taking place under the radar. It takes "gospel glasses" to see them. Good thing we've got a spare pair…
A "Quick Start" Guide Every power tool comes with one of these nowadays and you've just been entrusted with some of the most powerful tools in the universe: the Word of God, the Name of Jesus, the indwelling Spirit, the righteousness of Christ. You could be "armed and dangerous" as a warrior for the Lord, but first you've got to figure out how the thing works.
The "Starter Kit" If you are a new Christian, you need to know that even though you have been given a great "starter kit" of heavenly blessings, it carries no guarantee you will have a happy or wholesome life. Make sure you know what's in it, but don't stop there: Put it to good use gaining these three essential "extras."
The "Big Five" Connecters There are 5 things that every Christian needs to steadily do in order to stay well-connected to the Source: Your life depends upon it! The great thing is that Jesus in you loves doing these 5 things. They are delights, not duties. If you keep them in good repair, they will keep you powered up and rescue you when you aren't.
New Birth = New Creation Being "born of the Spirit" means that you are a brand new creation, but don't apply for sainthood yet. There is a new you, but the old you is still around, looking for ways of overthrowing what the Lord has done—and heading out on his/her own all over again. The old you has to stay knocked down, for the new you to enjoy the sweet air of freedom.
Spiritual Growth ABCs Even babies begin growing as soon as they leave the womb. Now that you've left the dark womb of the world behind, you're going to need a clear idea about which way is up where your growth is concerned. These pages will give you the keys for accelerated growth!
The Power of Your Will Apart from God, your will is the single most powerful thing in your universe. It has the power to choose heaven or hell as your ultimate destination and a heaven infused life versus a hellish one down here.[3] Like a fire hose under maximum pressure it can send you careening all over the place, unless you learn how to get a good grip on the thing and attach your will to His grace.
Spiritual Healing Spiritual healing goes deepest of all. Even though the reality of our spirit lies beyond the ability of our five senses to experience, it nevertheless holds the answer to all that affects our lives. Every breakdown in heart, mind or body traces back to this deepest of all roots. God begins our spiritual healing through the gift of faith in Christ. However, there is one thing that necessarily depends upon us, before God can bring our spiritual life into genuine health.
A New Life by the Gospel of Grace
By the Gospel of Grace It was Jesus who saved you by His death on the cross; it was the Father's love that saved you by sending Jesus to the cross in your place; and it is the Holy Spirit who is
bringing that salvation into your life by His work of helping you to believe, trust and obey. But the vehicle they are using to drive all this home into your heart and life is the Gospel of Grace.
Saved by the "Free Gift" Perhaps the hardest thing for all of us to believe is that God really does want to give us everything that we need for free.[2] You don't have to deserve His love and mercy, or His unfailing help. You certainly can't earn it. You can't make up for lost time. You can't bring forth a better version of yourself. But you can learn to trust and believe in what He is giving you. That's a lot! So take a good look at the "Free Gift" and let it overwhelm you… and transform you.
Seeing with Double Vision Many things in the spiritual life come in matched pairs, or mis-matched pairs if you count the ones that are on opposite sides like the new you and the old you, or the Kingdom of God and the kingdom of darkness. Sometimes it can make your eyes cross and your head swim, but we've laid them out in a way that should help you steer clear of confusion.
A New Life in the Power of the Spirit
In the Power of the Spirit There are two sides to salvation: Jesus' death for you and the Spirit's life in you. Just as Jesus died for you the death you deserved, so the Holy Spirit has come to live in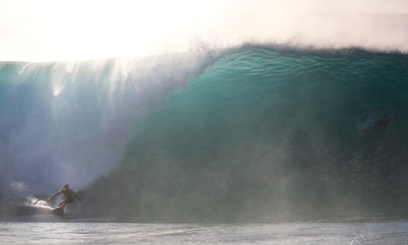 and through you the life you could not attain. As you look to Jesus in love and trust, the Holy Spirit (without any effort on your part) raises you into the new way of life. Walking in the Spirit is a great beginning; supernatural empowerment lies just ahead.
The Holy Spirit, Jesus and You The family resemblance is uncanny. Jesus' earthly relationship with the Holy Spirit is exactly mirrored by our own, practically in every detail. The few remaining parts of the image require our trusting obedience to fill in. Will we allow God to finish the portrait He desires to paint upon the canvass of our life?
The Indwelling Presence Surprise! The Holy Spirit of God is now living inside of you! He has always been with you, but now He is in you. This is our "guarantee" that we are indeed going to heaven, but it is so much more.[4] Holy Spirit has been sent to bring into our lives everything necessary for life and right living. It is impossible to live as a true Christian without God's help and we don't have to: the Helper is always as close as your next thought.
The Baptism of Power Jesus actually told the first disciples "Don't leave home without this!" So important is this spiritual empowerment that even the followers who had been trained by Him in person, who had received saving faith and the indwelling Spirit on Easter evening—even these dedicated believers were told to stay in Jerusalem and pray to be "baptized with the Holy Spirit."[5] If they needed it, don't we?
A New Life of Ministry to Others
Of Ministry to Others There are two great adventures to this New Life: getting to know our God better and joining Him in the Rescue. We all get to play a part! Of course only Jesus can save people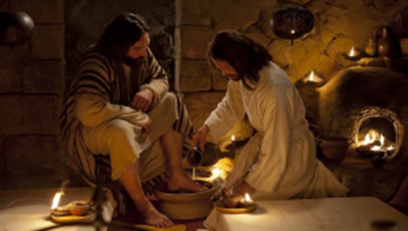 (as we have found out by our own experience). But He delights in gifting us, training us and going out with us to seek and save those who are lost or hurting in any way.
Preparing for Ministry Considering the Lord's high standards, you might think it takes a long time to get ready to do "ministry." For some things, yes, a fair amount of training may be required, but for most things all you need is a heart and the willingness to jump into that sea of human need, lostness, and misery which surrounds you. Nevertheless, you will be "tested" on the job concerning these basics, so be sure you know what they are and have them in play.
Doing MinistryThere's nothing like doing the thing, especially when what we are doing is something we can be sure that Jesus is doing right along with us! The real Minister, the true Servant, is there on the inside wanting to get out into that hurting, lost world through us His chosen vessels. The secret to kingdom success is letting Him do ministry through you. Practice His presence as you learn "The Care of Souls," "The Art of Listening," "The Heart of a Servant," and "How to Give Talks and Lead Ministry."
A New Life of Expecting His Return
Expecting His Return You don't have to wait for Jesus to return to experience the peace and power of His reign. His Kingdom comes whenever we trust and obey Him as Lord. But even that can't hold a candle to what it will be like when the Light of the World returns to establish His Kingdom on earth forever. There are incontrovertible signs that the long awaited Day is closer than you might think. Prepare to be very excited by this…
---
Scriptures and Foot Notes
[1] Every good gift and every perfect gift is from above, coming down from the Father of lights with whom there is no variation or shadow due to change. Of his own will he brought us forth by the word of truth, that we should be a kind of firstfruits of his creatures. James 1:17-18 ESV
[2] All of our "new life essentials" have been freeling given to us by our grace-filled Father: His divine power has granted to us all things that pertain to life and godliness, through the knowledge of him who called us to his own glory and excellence, by which he has granted to us his precious and very great promises, so that through them you may become partakers of the divine nature. 2 Peter 1:3-4 ESV
[3] "I call heaven and earth to witness against you today, that I have set before you life and death, blessing and curse. Therefore choose life, that you and your offspring may live, 20 loving the Lord your God, obeying his voice and holding fast to him, for he is your life and length of days." Deuteronomy 30:19-20 ESV
[4] In him you also, when you heard the word of truth, the gospel of your salvation, and believed in him, were sealed with the promised Holy Spirit, who is the guarantee of our inheritance until we acquire possession of it, to the praise of his glory. Ephesians 1:13-14 ESV
[5] And while staying with them he ordered them not to depart from Jerusalem, but to wait for the promise of the Father, which, he said, "you heard from me; for John baptized with water, but you will be baptized with the Holy Spirit not many days from now." Acts 1:4-5 ESV