A New Life of Expecting His Return
You don't have to wait for Jesus to return to experience the peace and power of His reign. His Kingdom comes whenever we trust and obey Him as Lord. But even that can't hold a candle to what it will be like when the Light of the World returns to establish His Kingdom on earth forever. There are incontrovertible signs that the long awaited Day is closer than you might think. Prepare to be very excited by this…Jesus actually expects us to discern the "signs of the times."

He [Jesus] answered them, "When it is evening, you say, 'It will be fair weather, for the sky is red.' And in the morning, 'It will be stormy today, for the sky is red and threatening.' You know how to interpret the appearance of the sky, but you cannot interpret the signs of the times. Matthew 16:2-3 ESV


The "End of the Age" Is Drawing Near
The "end of the age", also known as "the last days", are not the end of the world. The truth is that this end is essentially a new beginning. That should not surprise us.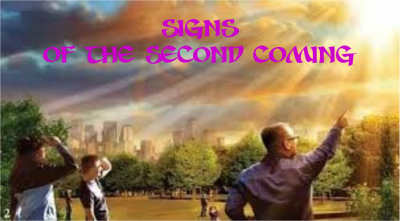 We have already experienced a precursor of this. In order for God to make us "new creations" He had to bring to death the "old man." Through spiritual rebirth The Father made us new in Christ, but the day of our conversion was hardly our "last day" or the "end of our life" on earth. God amazingly restored us to who He had originally created us to be and then united us to His Spirit, giving us new birth, new life and freedom from captivity to the fallen nature and the enemy's dominion over us. Old things "passed away" and "all things" were made new.[1] Something similar is coming to the earth as a whole!


Signs and Times
Concerning the return of the Lord two things are beyond dispute in the text of scripture:
1) The day is surely coming when the Lord will return to bring an end to the present age.
2) It is very important that believers stay watchful for His return.

Stay awake and aware. It is anticipated in scripture that in the last days (before His coming) many will cease believing and expecting this promise of God to be fulfilled—they will be caught unprepared. Hence, the repeated warnings to stay alert and prepared.
I am stirring up your sincere mind by way of reminder, that you should remember the predictions of the holy prophets and the commandment of the Lord and Savior through your apostles, knowing this first of all, that scoffers will come in the last days with scoffing, following their own sinful desires. They will say, "Where is the promise of his coming? For ever since the fathers fell asleep, all things are continuing as they were from the beginning of creation." … But do not overlook this one fact, beloved, that with the Lord one day is as a thousand years, and a thousand years as one day. The Lord is not slow to fulfill his promise as some count slowness, but is patient toward you, not wishing that any should perish, but that all should reach repentance. 2 Peter 3:1-4, 8-9 ESV

Concerning the timing of His return, Jesus Himself makes a clear distinction between signs that are clearly meant to show believers that His return is drawing near and the day and hour which will remain a hidden thing. He fully expects that we will know that it is near—at the doors, but we are not to press Him for the exact moment. This foretold lack of exactness is why our new life is characterized by awaiting His return with eager watchfulness.

1) Dates and hours—the exact moment of His Coming is withheld from all.
2) Times and seasons—the near approach of His Coming will be known by many.

"From the fig tree learn its lesson: as soon as its branch becomes tender and puts out its leaves, you know that summer is near. So also, when you see these things taking place, you know that he is near, at the very gates. Truly, I say to you, this generation will not pass away until all these things take place. Heaven and earth will pass away, but my words will not pass away. "But concerning that day or that hour, no one knows, not even the angels in heaven, nor the Son, but only the Father. Be on guard, keep awake. For you do not know when the time will come." Mark 13:28-34 ESV

The teaching of St. Paul lines up perfectly with the teaching of Jesus. For people of the world there will be a complacent attitude that life is going on as usual. Unaware of the times and the seasons, they will not be watching and preparing for the return of Christ. Instead, they will be surprised and overwhelmed like people suddenly awakened (too late!) by a thief in the night. But it is quite different for people of faith who have no need of further instruction concerning the return of the Lord. The clear implication is that they will be awake and alert to the times and seasons and will not be surprised when the Day finally arrives.
Now concerning the times and the seasons, brothers, you have no need to have anything written to you. For you yourselves are fully aware that the day of the Lord will come like a thief in the night. While people are saying, "There is peace and security," then sudden destruction will come upon them as labor pains come upon a pregnant woman, and they will not escape. But you are not in darkness, brothers, for that day to surprise you like a thief. For you are all children of light, children of the day. We are not of the night or of the darkness. So then let us not sleep, as others do, but let us keep awake and be sober. 1 Thessalonians 5:1-6 ESV


Unprecedented Signs of Christ's Return
There are unmistakable signs on the horizon. None of the following signs were in place prior to the middle of the past century. Up until very recently no one looking for Biblical signs of the Lord's return would have been in a position to say His return was drawing near. Conversely, the convergence of these signs (many of which had been unthinkable possibilities in the past) point inexorably to the knowledge that Jesus said His church would have about the season of His return. These signs can be grouped as follows:
Jewish Signs It is a mark of God's faithfulness that He never forgets, but always fulfills, His promises and His purposes. Long before Jesus came to earth, God chose the Jewish people to be in a unique covenant relationship with Himself. This was certainly intended for their benefit, but also for ours: Ultimately the long-awaited Savior would come to them, then through them to us. Guess what? He is getting things ready to do it again!
Gospel Signs Jesus gave us this sign, but Peter explained it. He wrote in 2 Peter 3:1-9 that the Father is in no hurry to bring things to a quick close because He doesn't want anyone to be perish, but all to come to repentance. For that to happen the gospel has to be preached to all the world. That day is coming at us like a freight train…
Global Signs When the Bible was being written the "world" to its authors was no larger than the Mediterranean basin and outlying provinces, mostly under Roman control. Before the entire world could be organized into anything like the unified whole pictured in the Book of Revelation, it first had to be explored, then subdued. When these signs were given, they were unthinkable possibilities; now they are everyday realities. Well, almost all…
---
Scriptures and Foot Notes
[1] Therefore, if anyone is in Christ, he is a new creation. The old has passed away; behold, the new has come. All this is from God, who through Christ reconciled us to himself and gave us the ministry of reconciliation. 2 Corinthians 5:17-18 ESV