Jesus, Our Heroic Savior
Loving Our Magnificent, Invincible Savior
Jesus is the Hero of our story. In fact all of history is His Story. Before the cross it tells us of humanity's fall and of God's ways of preparing us for the Savior to come. Then for a brief moment in time Jesus left His divine powers behind, took the plunge into earth's pain and darkness, and lived in our midst, becoming forever united to our humanity.[1] At the cross He single-handedly redeemed us. After the cross and His ascension history reveals His slow, patient way of redeeming humanity through us. It is easy to miss it: easy to look at the world and not see a Creator; easy to look at our history and not see His Story. Seeing Him changes everything.
He is the image of the invisible God, the firstborn of all creation… He is the beginning, the firstborn from the dead, that in everything he might be preeminent. For in him all the fullness of God was pleased to dwell. Colossians 1:15, 18-20 ESV
Our Point of Entry
Jesus is our entry point for truly coming to know God as God the Father desires to be known. No one comes to the Father except through Him.[2] Jesus not only reveals the Father and clears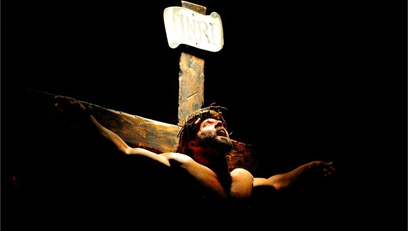 the way for our approach (by atoning for our sins), He leads us to Him.[3] Jesus is, therefore, our entry point to genuine spiritual life.[4]
Everyone has a spirit, but the spirit that we were born with was spiritually "dead"—fallen beyond repair. It serves as a connection to the kingdom of darkness, but not to the Father of lights. When we turn to God through faith in Christ, Jesus becomes real to us. We "know" He is Alive and that He is Lord. This lifting of the veil by our Father is also a sign that our spirit has been renewed. Now we can behold by faith the glorious Lord of creation, previously hidden from our sight by Adam's sin.
And even if our gospel is veiled, it is veiled only to those who are perishing. In their case the god of this world has blinded the minds of the unbelievers, to keep them from seeing the light of the gospel of the glory of Christ, who is the image of God. 2 Corinthians 4:3-4 ESV
There are many ways of coming to faith and receiving the life-transforming revelation of Jesus our Savior. Some hear about Him for years, before the moment arrives when their heart opens to allow Him entrance. Others may encounter Jesus by supernatural intervention and then go to the Book to learn more about Him. Some will encounter Him as a more personal revelation of the Creator God that they have always tried to please and serve. Others (myself included) turn to Christ after plunging into the sin-stained depths of their depravity and there discovering their desperate need of a Savior. (See Steve's Story for the harrowing account of a truly unbelievable Rescue from Hell. It's free reading at healingstreamsusa.org)
The Great Equalizer
No matter where we begin or how, we are all drawn into the same stunning revelation and placed on the same, level playing field. We are forgiven our past sins, given a new nature and the Name of Jesus. Through this God gives us a fresh start in life with Jesus at the center. The key to growth now is neither intellect nor attainments, social standing or social graces, age or appearance, past tragedies or past glories. What your life has been like up to this moment of receiving the revelation of Jesus Christ matters little in the spiritual life. What you will become now that you know who Jesus is, that is all that really matters. Will you become like Him? This is what the Father is after.
For those whom He foreknew [of whom He was aware and loved beforehand], He also destined from the beginning [foreordaining them] to be molded into the image of His Son [and share inwardly His likeness], that He might become the firstborn among many brethren. Romans 8:29 AMP
The main way we become like Jesus is by calling on His Name—calling for His mercy, His help, His wisdom, or His guidance—in every moment in which our old nature threatens to take over and run the show.[5] This gives Jesus our Savior the opportunity that He needs to intervene on our behalf, saving and transforming us in one satiation after another. If you are not calling on Him, you are trying to save and transform yourself and He (reluctantly, no doubt) will leave you to it.
You now know that you cannot save yourself for heaven and that you don't have to. Jesus can and will! That discovery was why we called on Him in the first place. Now embrace this truth: you also cannot change yourself or lead yourself into your true, new life.[6] For that you will need to cling to and call on Jesus every step of the way. That's what levels things out. Even the worst reprobate, if he (or she) starts calling on Jesus in every moment of need, can quickly surpass the growth of someone with less need who rarely turns to Jesus. Will you begin calling on Him in order to yield your new life to Him at every point, or will you try to stay in charge? Our eyes may be on you, but your eyes need to be on Jesus![7]
Focus on Jesus
Now that your eyes have been opened, don't lose this focus: it's Jesus! He is the beautiful One your heart has been uniquely shaped to love above all else. He is the living Word of truth that you have been hungry to know all your life. If we could see Him as He really is, we would instantly lose all fear, all doubt, all pain, all sorrow, all thought of self, all desire to turn aside. Our whole desire would be to stick to Him like glue!
One reason He doesn't reveal more of Himself to us is so that we will "press in" to seek to "see" Him better, if that's what we really want. The other reason is so that we will turn to explore our world and seek to find our appointed place of love and service in it (with His help). The danger here is that the world will capture our hearts and our focus, drawing us away from Him.[8] Our job is to keep our inward eye turned towards Him, making sure that everything we encounter also causes us to be drawn closer to Him in giving thanks or in seeking help.[9]
There is a rhythm to this like breathing: in and out, coming and going. We come to Jesus, getting our eyes back on Him as we seek Him in worship to be lifted higher or seek Him in repentance to be restored to His side. We call out for mercy or for saving help. We come to Him with every pain and problem or with every point of praise.
"Come to me, all who labor and are heavy laden, and I will give you rest. Take my yoke upon you, and learn from me, for I am gentle and lowly in heart, and you will find rest for your souls. For my yoke is easy, and my burden is light." Matthew 11:28-30 ESV
It never ends there. Once restored to peace and joy, there is always the leading out, the going forth. We seek to follow Him out into the world of others, learning His ways of loving them and serving their needs, or pursuing the tasks He sets before us, our work in His world. According to Jesus, our very lives depend upon learning how to deny self and follow Him.
Then Jesus told his disciples, "If anyone would come after me, let him deny himself and take up his cross and follow me. For whoever would save his life will lose it, but whoever loses his life for my sake will find it." Matthew 16:24-25 ESV
Trying to follow Jesus "out" into the world can all-too-easily carry us further from Him than we intend. We can get distracted, lose our way, become tangled in sin, or burdened by the legitimate cares of the world. That's a sure sign that we need to come back to Jesus! These separations from the Lord show us that there is a "traitor" wearing our clothes. Self wants to stay when Jesus wants to get going; Self wants to head out in wrong directions and easily loses direction altogether. Self even resists coming to Jesus when it is past time for repentance. As hard as it is to follow Jesus without stumbling, it can be even harder to "come back" to Jesus if we fall.
The Rhythm of the River
We don't have to fall into a pit to come back to Jesus. We can go to Him at the first sign of falling way. However short or long the distance that separates us, we come to Jesus to re-center, be restored and refreshed. Then we follow. Trust, then obey. That is the rhythm. You can do it in weekly cycles, just barely surviving from Sunday to Sunday (if you can hold your breath that long). Or you can learn to live in His presence by guarding His peace, moment by moment. I heartily recommend the latter! This requires surrendering your life to Him, but it leads to true wholeness and genuine emotional health (see Spiritual Healing).
Let His peace rule over you. Let any lack of peace cause you to turn swiftly to Him for help and restoration. He is our peace![10] If you lose His peace, you also lose your effective connection to His presence and His power. Always remember the peace that you felt when you first believed.[11] That peace is meant to be your 24/7 experience of new life in Him, through Him and with Him. Faith drew you close to Him then—that's why there was peace.[12] Faith as trust and active believing will always draw you close. Then the peace will flow again. Where He goes, His peace goes so do your best to learn how to stay in step with Him. All His paths are peace.[13] Learn to walk under his leadership and your daily life will become a river of peace.[14]
Explore More about Jesus
His Eternal Pre-Existence Jesus didn't suddenly appear on the scene with His birth at Bethlehem. That was when He came to earth as one of us to play the central role in our redemption. But He wasn't waiting in the wings rehearsing His lines! What was the Son of God doing before He became the Son of Man? The clues are scattered across the pages of the Bible like stardust in the heavens.
His Miraculous Birth If Jesus truly is our Model and Example in everything pertaining to the spiritual life, then His birth has volumes to speak to us about our own new life in Him. Indeed, it does! What it reveals will make you marvel even more at the "risk" He took and the miracle, not only of His birth, but of His unwavering pursuit of His divine assignment.
Free Downloads
pdf Jesus: 7 Key Moments in His Life (28-page eBook) (665 KB)
pdf Jesus, Our Heroic Savior (this article) (396 KB)
Scriptures on Jesus Our Savior
For this reason I bow my knees before the Father, from whom every family in heaven and on earth is named, that according to the riches of his glory he may grant you to be strengthened with power through his Spirit in your inner being, so that Christ may dwell in your hearts through faith—that you, being rooted and grounded in love, may have strength to comprehend with all the saints what is the breadth and length and height and depth, and to know the love of Christ that surpasses knowledge, that you may be filled with all the fullness of God. Ephesians 3:14-19 ESV
[Now] He is the exact likeness of the unseen God [the visible representation of the invisible]; He is the Firstborn of all creation. For it was in Him that all things were created, in heaven and on earth, things seen and things unseen, whether thrones, dominions, rulers, or authorities; all things were created and exist through Him [by His service, intervention] and in and for Him. And He Himself existed before all things, and in Him all things consist (cohere, are held together). He also is the Head of [His] body, the church; seeing He is the Beginning, the Firstborn from among the dead, so that He alone in everything and in every respect might occupy the chief place [stand first and be preeminent]. For it has pleased [the Father] that all the divine fullness (the sum total of the divine perfection, powers, and attributes) should dwell in Him permanently. Colossians 1:15-19 AMP
---
Scriptures and Foot Notes
[1] Irenaeus, one of the Early Church Fathers, wrote this about Jesus our Savior: "He became what we are that He might bring us to be even what He is Himself." Irenaeus, Against Heresies Preface to Book 5 in A. Roberts and J. Donaldson (eds), The Writings of Irenaeus Vol. 2 (Edinburgh: T & T Clark, 1869), p. 55.
[2] Jesus said to him, "I am the way, and the truth, and the life. No one comes to the Father except through me. If you had known me, you would have known my Father also. From now on you do know him and have seen him." John 14:6-7 ESV
[3] All things have been handed over to me by my Father, and no one knows the Son except the Father, and no one knows the Father except the Son and anyone to whom the Son chooses to reveal him. Matthew 11:27 ESV
[4] And this is the testimony, that God gave us eternal life, and this life is in his Son. Whoever has the Son has life; whoever does not have the Son of God does not have life. 1 John 5:11-12 ESV
[5] All of the old differences between us are now abolished. What levels the playing field is that each of us who believe, know who we can call on for saving help and transformation: For there is no distinction between Jew and Greek; the same Lord is Lord of all, bestowing his riches on all who call on him. For "everyone who calls on the name of the Lord will be saved." Romans 10:12-13 ESV
[6] We are indeed New Creations (see New Birth = New Creation), but Jesus still holds the key to how that truer, better version of ourselves comes forth: For you have died, and your life is hidden with Christ in God. Colossians 3:3 ESV
[7] Therefore, since we are surrounded by so great a cloud of witnesses, let us also lay aside every weight, and sin which clings so closely, and let us run with endurance the race that is set before us, looking to Jesus, the founder and perfecter of our faith. Hebrews 12:1-2 ESV
[8] James tells us that the first thing that happens when the enemy tempts us, is that we are "drawn away"—from what? From Whom? From Jesus! Form His peace! Let to recognize when you are being drawn away and start calling on His Name: But every person is tempted when he is drawn away, enticed and baited by his own evil desire (lust, passions). James 1:14 AMP
[9] Through Isaiah the Lord is calling us to keep our inward focus on Him: Look to Me and be saved, all the ends of the earth! For I am God, and there is no other. Isaiah 45:22 AMP
[10] But now in Christ Jesus, you who once were [so] far away, through (by, in) the blood of Christ have been brought near. For He is [Himself] our peace (our bond of unity and harmony). Ephesians 2:13-14 AMP
[11] And the peace of God, which surpasses all understanding, will guard your hearts and your minds in Christ Jesus. Philippians 4:7 ESV
[12] You keep him in perfect peace whose mind is stayed on you, because he trusts in you. Trust in the Lord forever, for the Lord God is an everlasting rock. Isaiah 26:3-4 ESV
[13] In this proverb Solomon characterized the spirit of Wisdom as feminine. That is a mystery I haven't resolved, but what I am sure of is that all wisdom is found in Jesus and that this verse describes our Lord and His ways accurately: Her ways are ways of pleasantness, and all her paths are peace. Proverbs 3:17 ESV
[14] For thus says the Lord: "Behold, I will extend peace to her like a river, and the glory of the nations like an overflowing stream. Isaiah 66:12 ESV