Gospel Signs of Jesus' Return
Jesus gave us this sign, but Peter explained it. He wrote that the Father is in no hurry to bring things to a quick close because He doesn't want anyone to perish, but all to come to repentance.[1] For that to happen the gospel has to be preached to the entire world. That day is coming at us like a freight train…

Gospel Signs of the End of the Ages
1) The gospel is being preached to the entire world. For the first time in world history, the Bible is being targeted for translation into every known language (see Wycliffe translators). The gospel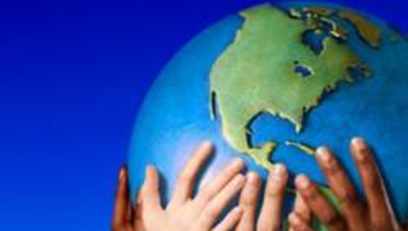 is also being carried by missionaries into every known people group as a witness to all the nations (see MorningStar's Eagle Missions for example). This gospel sign is nearly completed. It has to happen first, then the end can come.
As he sat on the Mount of Olives, the disciples came to him privately, saying, "Tell us, when will these things be, and what will be the sign of your coming and of the close of the age?" And Jesus answered them, "See that no one leads you astray. For many will come in my name, saying, 'I am the Christ,' and they will lead many astray… And this gospel of the kingdom will be proclaimed throughout the whole world as a testimony to all nations, and then the end will come. Matthew 24:3-5,14 ESV

2) The restoration of the tabernacle of David. Prayer and praise that is offered before the Lord as continuous worship is prophesied of the end of the age. Curiously, it, too, is one of the things God is raising up in the earth today and restoring to the life of the church. There is a 24/7 worship and intercessory movement that began in Kansas City, Missouri in 1999, the International House of Prayer
"In that day I will raise up the booth of David that is fallen and repair its breaches, and raise up its ruins and rebuild it as in the days of old, that they may possess the remnant of Edom and all the nations who are called by my name," declares the Lord who does this. Amos 9:11-12 ESV
"'After this I will return, and I will rebuild the tent of David that has fallen; I will rebuild its ruins, and I will restore it, that the remnant of mankind may seek the Lord, and all the Gentiles who are called by my name, says the Lord, who makes these things 18 known from of old.' Acts 15:16-17 ESV

More Unprecedented Signs of Christ's Return
Jewish Signs It is a mark of God's faithfulness that He never forgets, but always fulfills, His promises and His purposes. Long before Jesus came to earth, God chose the Jewish people to be in a unique covenant relationship with Himself. This was certainly intended for their benefit, but also for ours: Ultimately the long-awaited Savior would come to them, then through them to us. Guess what? He is getting things ready to do it again!
Global Signs When the Bible was being written the "world" to its authors was no larger than the Mediterranean basin and outlying provinces, mostly under Roman control. Before the entire world could be organized into anything like the unified whole pictured in the Book of Revelation, it first had to be explored, then subdued. When these signs were given, they were unthinkable possibilities; now they are everyday realities. Well, almost all…
---
Scriptures and Foot Notes
[1] Knowing this first of all, that scoffers will come in the last days with scoffing, following their own sinful desires. They will say, "Where is the promise of his coming? For ever since the fathers fell asleep, all things are continuing as they were from the beginning of creation." … But do not overlook this one fact, beloved, that with the Lord one day is as a thousand years, and a thousand years as one day. The Lord is not slow to fulfill his promise as some count slowness, but is patient toward you, not wishing that any should perish, but that all should reach repentance. 2 Peter 3:3-4, 8-9 ESV