Who We Are
We are ones who bear witness to the Light!
Steve Evans came to faith as one brought back from the dead after a decade of occult oppression and torment. His passion is to see people everywhere released from emotional pain and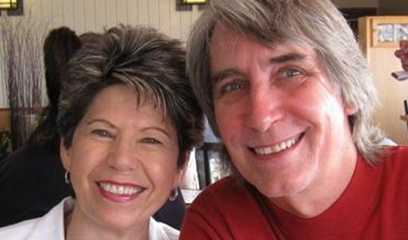 brokenness and restored to their full inheritance. He has authored five books: The Missing Peace, Matters of the Heart, Good Grief, An Illustrated Guide and Rescued from Hell which tells the story of his own harrowing descent into inner darkness and ultimate restoration. Steve is an ordained minister and a former carpenter, craftsman and missionary. Since coming to faith in 1982 Steve has led many people into a life-saving and life-changing relationship with Jesus Christ. His vision for Forerunners4Him is to assist the Lord with birthing and building up the Body of Christ on a grace basis.
Eunice has been married to Steve since 2008. She is devoted lover of Jesus and a passionate worshiper of the Risen Lord. Her name means "joyous victory—she conquers" and she is known as an intercessor for her willingness to "run to the roar" of the enemy, refusing to let him gain ground whenever he seems to be on the prowl. She is also a gifted teacher, having taught Sunday School and Bible studies for over thirty years. Long before she met Steve the Lord showed her in a vision that she would one day be married again and doing inner healing and deliverance in large groups
Healing Streams is a ministry of liberation and transformation, helping believers recover their emotional freedom and master their inward state. Through Biblical teaching we seek to help people find freedom from the negative emotions that rob inner peace and damage health. Our main healing lessons form a 24 part series, Matters of the Heart, which can be accessed for free through our website as individual, downloadable teachings in PDF and MP3 formats or viewed on our Youtube channel.
Sample and enjoy some of
Steve's "spiritually fun stories" on YouTube
A cat's teenage pregnancy led to a very funny encounter with God.
An amazing reversal of fortune when a "drifter" got set free!
A stunning answer to prayer for rain--the heavens poured!
If you have ghosts in your house, who are you going to call?
God really does have a delightful sense of humor!
Does God care about kittens? You bet He does!
Hosts Steve and Angela discuss stress related illnesses.
More to Explore
Steve's Story Over half of Rescued from Hell is posted for free for two reasons: 1) You have a right to know about the one who is seeking to help you grow in the spiritual life, so that you can better decide if you want to trust me as a teacher and 2) practically everything on the site first came into my life as a truth I needed for the sake of my own growth. There are, therefore, many points where my story carries a testimony that could help you gain insights or inspiration to overcome your own obstacles.
Free Downloads